Akaysha's story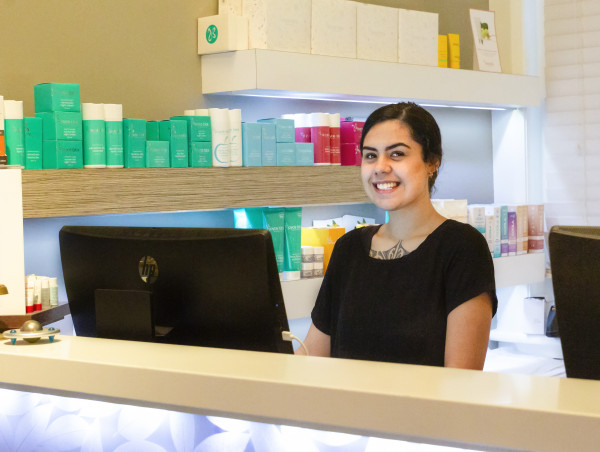 Learn more about Akaysha
Along Lambton Quay and tucked above the famous Plimmer Steps you'll find Urban Sanctuary – an award-winning beauty therapy clinic and day spa providing a relaxing oasis from Wellington's bustling CBD. Busy at work performing treatments, liaising with clients and fronting the reception is WelTec beauty therapy graduate, Akaysha Cooper.
Akaysha began her journey at Urban Sanctuary while she was still completing her level 4 Certificate in Beauty Therapy at WelTec. During her studies she was given the opportunity to gain practical work experience where she oversaw day-to-day activities at the spa/clinic. Following this, Akaysha was offered part-time work at Urban Sanctuary as she worked towards her qualification before landing herself a full-time role after graduating.
She says her time at WelTec prepared her extremely well and made her confident going into the industry – "They taught us all the practical skills we needed, but they also taught us the social and communication skills that are really important in the industry as well." The 'client nights' organised through WelTec's beauty therapy programme where members of the public came in and received treatments while the class enacted a real salon environment played a big part in preparing Akaysha for her current role.
Akaysha is one of five WelTec beauty therapy graduates currently at Urban Sanctuary – Linley Ramsay stating herself and business partner Jo Watson are "impressed with the level of training provided by WelTec and always confident to offer a position at Urban Sanctuary to graduates."
As a reputable beauty therapy clinic with a strong focus on the holistic well being of clientele and delivering exceptional services, the learning doesn't stop there. Linley and Jo demonstrate further commitment to expand the skills of WelTec graduates beyond expectation. This enables WelTec graduates stepping into their professional roles to provide the high-quality, specialist services associated with the identity of the Urban Sanctuary brand.
Central to her work as a beauty therapist is Akaysha's passion for helping people. When first considering studying beauty therapy, Akaysha says she was drawn to the idea of "making people feel good about themselves."
When asked what advice she would give to current beauty therapy students, Akaysha encourages them to dive deep into the learning experience and study the course content closely, saying "everything I learned at WelTec I'm still using today."
While she is very content in her current role, Akaysha hints that one day she might like to open her own beauty therapy business, but for the time being is extremely grateful to be a part of the Urban Sanctuary family.