30 international students arrive from Japan to attend WelTec in Petone
With the reopening of borders and the gradual return of international students to New Zealand, a group of 30 students from Nagoya University of Foreign Studies in Japan have spent nine weeks at the Petone campus of Whitireia and WelTec honing their English language skills.
This is in preparation for a week of classes at the Whitireia and WelTec School of Hospitality on Cuba Street in Central Wellington, before spending two weeks volunteering in the hospitality sector to put their new skills to use, and build confidence using the English language.
Whitireia and WelTec have a longstanding relationship with Nagoya University of Foreign Studies, but due to COVID, it has been over three years since students have returned to New Zealand.
"It is fantastic to have international students back on campus, these are third or fourth year students who have a good grasp of English and come here to further improve their knowledge of the language, and importantly to put this to use in a real life setting," says Bryan Read, Head of International Marketing at Whitireia and WelTec. "We also teach them basic hospitality skills, like front of house, service, and barista, so they can use these skills while volunteering and practicing their English in a public facing role while they are here."
As part of their immersion into New Zealand life, the students have had the opportunity to visit a marae and learn about Māori culture. Students were welcomed onto Waiwhetū Marae in Lower Hutt by Te Āti Awa.
Sogo Kimura, who is part of the group of Japanese students, is from Shiga in central Japan and is studying British and American culture and English at Nagoya University of Foreign Studies, talks about his time at WelTec in New Zealand.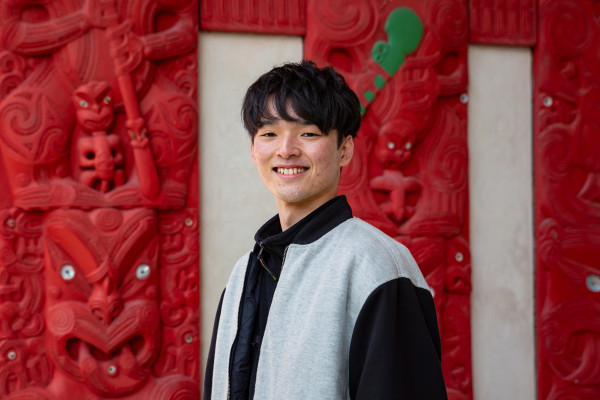 Sogo Kimura, Japanese exchange student studying at Whitireia an WelTec
"I have loved getting out and about and experiencing the culture. We went to Parliament which was really interesting and we got to experience the marae. It's a privilege to experience Māori culture. Everyone is so friendly which has made getting out of our comfort zone easier, and we can really immerse ourselves in New Zealand."
"Whitireia and WelTec are welcoming back significant numbers of international students from a variety of key markets," says Bryan. "International students studying in Wellington can choose from a wide range of study programmes, from Business & IT, to Creative and Engineering and we have noticed particularly strong interest in our post graduate programmes in management and information technology."
Click here for more information about international students at Whitireia and WelTec.