Creative and performing arts students at Whitireia and WelTec launch inaugural festival - E/MERGE
Creative and performing arts students at Whitireia and WelTec launch inaugural festival - E/MERGE
Students enrolled in creative and performing arts programmes at Whitireia and WelTec, based at the Te Auaha campus in central Wellington, are gearing up to launch an inaugural arts festival to showcase their talents to the public - called E/MERGE.
The festival will feature content from all nine creative areas programmes offered by Whitireia and WelTec. These are: Creative Technologies, Creative Writing, Screen Production (Film), Publishing, Stage and Screen (Drama), Commercial Dance, Māori and Pacific Dance, Music, and Musical Theatre.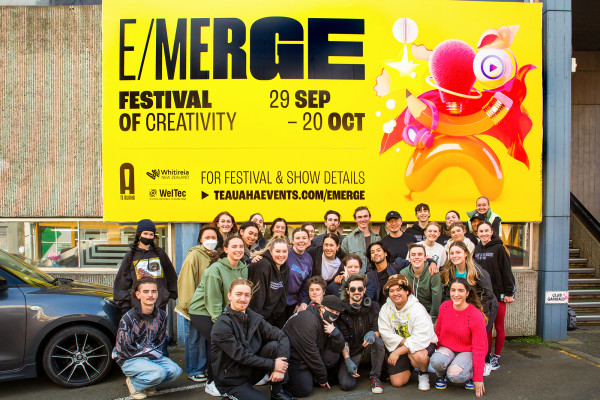 Whitireia and WelTec students with E/MERGE festival billboard on Vivian Street, Wellington
The festival will run from September 29th through to October 20th.
"E/MERGE signifies several things: we're emerging from Covid and our ākonga (students) are emerging from their learning, connecting with professional creative communities by showcasing their talent, and taking a step closer to their careers," says Gareth McGhie, Assistant Programme Manager for Creative and Performing Arts at Whitireia and WelTec.
E/MERGE will have an arts festival format with exhibitions in the gallery spaces, film in the cinema, readings and book launches, musical theatre, Māori and Pacific dance, drama, contemporary dance and music.
"A critical part of vocational education is being able to pathway students into work and careers, the creative professions have been particularly hard hit through the lockdowns, and we need to do all we can to support our ākonga link with employers. E/MERGE is an opportunity for students to demonstrate their abilities to the sector," says Brenda Saris, Programme Manager for Creative and Performing Arts at Whitireia and WelTec.
"Previously our creative programmes held end of year showcases in silos. E/MERGE brings the creative programmes together to create a very powerful celebration of each area of study and acknowledges the incredible work being created at the Te Auaha campus," says Brenda.
"After three years of Covid our ākonga have been very isolated – there hasn't been the opportunity to gather, collaborate in person and create across the disciplines. This festival moves us away from working in silos and the COVID environment, into a new collaborative environment that celebrates the mahi (work)."
Brenda explains how kaimahi (staff) collaborated with a brand agency in Wellington to develop the name and visual look and feel for the festival and marketing material.
"The nine areas of creative study at Whitireia and Weltec will be represented by 'blobjects' which when combined create a 'blobstar' (see attached image with poster). These images will be printed on posters, used in animation and kaimahi and ākonga will physically build one of the 'blobjects' to be used as an interactive promotional prop for the festival," concludes Brenda.
Tickets for E/MERGE went on sale Monday 5th September, and the majority of tickets will be $10 each.
More information on the creative programmes at Whitireia and WelTec can be found here