Pacific educator and author Lisa Fuemana-Foa'i awarded 2022 Māori and Pacific Publishing Scholarship
Pacific educator and author Lisa Fuemana-Foa'i awarded 2022 Māori and Pacific Publishing Scholarship
Lisa Fuemana-Foa'i has been awarded the 2022 Māori and Pacific Publishing Scholarship thanks to a collaboration with Whitireia Community Polytechnic Limited and Penguin Random House New Zealand (PRH).
The scholarship offers funding for a Māori or Pacific student to study the Graduate Diploma in Publishing at Whitireia. It also includes hands-on experience twice a year at Aotearoa New Zealand's biggest publishing house, Penguin Random House.
The PRH NZ Māori and Pacific scholarship was created in 2020 to reduce barriers to equity, and encourage diversity and inclusivity in publishing in Aotearoa.
Lisa, who is of Niuean and American Samoan descent, is an award-winning educator who has recently returned from Qatar and the United Arab Emirates, where she taught in the classroom and worked in education reform and education leadership roles. Before that, she wrote children's books and other curriculum resources for the Ministry of Education under Learning Media for a variety of age groups, from early years through to high school.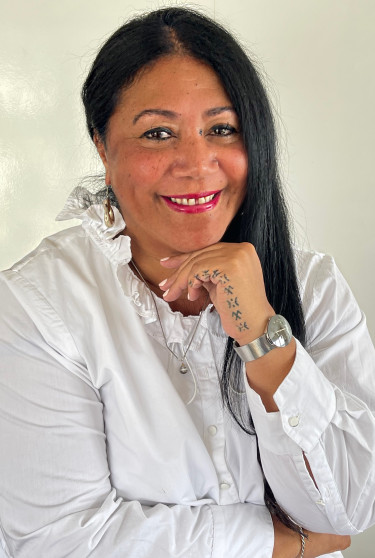 Lisa Fuemana-Faoa'i, Whitireia publishing student and Pacific educator and author.
Lisa says this scholarship will help her achieve her dream, which is to write and publish books for children with a focus on empowering indigenous and minority ethnicities. She says:
"I am deeply honoured and humbled to have been chosen for this scholarship. The opportunity to continue learning and upskilling in the publishing industry is exciting to say the least. To further grow and harness my skills in this field can only help me in my goal and vision of being a pioneer for future Pasifika publishers and New Zealanders who may originate from different backgrounds.

I endeavour to advocate strongly for a Pasifika voice and presence, contributing my deeply rooted Pasifika values and beliefs for the aspiration of Pasifika children and minorities to succeed.

Fuhi ulu au loa. This is a traditional Niuean quote that translates as "braiding hair together" and refers to many strands working together towards a common goal."
Head of Publishing at PRH Claire Murdoch says:
"Last year's inaugural scholarship announcement saw a significant increase in course applicants and this year we were lucky to receive several excellent applications from brilliant students, further confirming the need for this initiative.
"Lisa's application stood out to us because of her contagious passion and her commitment to child literacy.
"We know that what she learns at Whitireia, and here at Penguin, will equip Lisa with the skills and opportunities she's seeking to help achieve those dreams, and in turn look forward to learning from her.
Senior publishing tutor at Whitireia Odessa Owens says,
"We're thrilled to welcome Lisa on the course this year with the support of the scholarship – congratulations Lisa!"
Further information on publishing can be found here