Please join us at the 2021 National ITP Research Symposium this November 25 - 26th.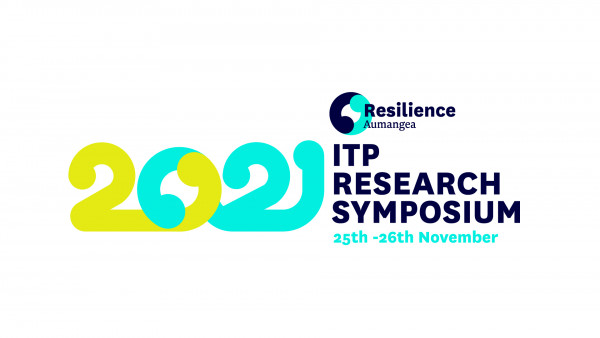 The Open Polytechnic of New Zealand, Whitireia and WelTec are jointly hosting the 2021 ITP Symposium. This will now be an online event. The symposium theme is Resilience | Aumangea.
Call for abstracts (submissions now closed)
The aim of the symposium is to bring together staff from across the many ITPs, postgraduate students and our key industry stakeholders who are interested in research. The symposium organising committee are particularly interested in fostering research collaborations amongst attendees as we move towards becoming one entity under Te Pūkenga. The symposium welcomes contributions from academic staff and tutors, as well as postgraduate students from across the ITP sector who would like to present on their research work. We welcome abstract submissions under the following streams:
Education, Teaching & learning (from ECE to Tertiary level)
Health & Social Services
Business and Accounting
Creative Industries
Construction & Engineering
Information Technology and Information Studies (Library)
Rangahau Māori
Pacific and diversity issues
Miscellaneous (Includes but is not limited to the following.
Hospitality, Tourism, Funeral Services, Real Estate amongst others)
Meet the organising committee See our sponsors
Keynote Speakers
We have great keynote speakers lined up for this event.
Jehan Casinader

(Journalist, public speaker and mental health advocate; 2020 Broadcast reporter of the year)
Dr Mereana Selby

(Ngāti Raukawa, Ngāti Huia, Ngāti Porou Tumuaki,Chief Executive, Te Wānanga o Raukawa, Dr Selby has a passion for language revitalisation and intergenerational language transmission)
Submission Options and Guidelines (submissions now closed)
There will be three main types of submission at this event. All submission must include an abstract with a word limit of 400-500 words. All research and poster abstracts must:
State clearly the objective of the study
Concisely describe the methodology or method employed in gathering the data, processing and analysis
Summarise the results and state the principal conclusion
If including references, please use APA style formatting. Submission options are provided below:
1. Presentations
Research Presentations - Research presentation are sessions for delegates who wish to present on research projects which include forming hypotheses, collecting data, analysing results, forming conclusions, implementing findings into real-life applications and forming new research questions. Both positivist and non-positivist research, and critical literature reviews would fit under this category. A 15-minute presentation followed by 5 minutes of question and discussion time.

Information Presentations - Information sharing presentation are for staff who wish to present on a specific topic relevant to their discipline areas but which doesn't follow the formal research process (reviewing literature, collecting data, analysing data etc). A 10-minute presentation followed by 5 minutes of question and discussion time.
2. Posters
Research posters summarize information or research concisely and attractively to help publicize it and generate discussion. The poster is usually a mixture of brief text mixed with tables, graphs, pictures, and other presentation formats. The researcher is expected to stand by the poster display during a set session while other delegates view the presentation and interact with the author. Posters must be portrait and either A1 or A2 in size.
3. Creative Works and Exhibits
We welcome visual artworks, fashion displays, music, cultural performances and so forth. There is an exhibition space available for visual works and performances.
Review Process
All submissions will be sent out to a qualified reviewer in your field. Applicants will be notified and invited to present if their submission is accepted. All submissions (presentations, posters, creative works) must relate to the theme and subthemes. Please note that given the number of submissions only high-quality submissions will be invited to participate. Please note that failing to answer questions on the submission form or adhere to the guidelines above may lead to your abstract being declined.
Peer-Reviewed Proceedings
Papers of approximately 5000-6000 words (including references) can be submitted in support of any of the above presentation formats. Eligible submission will be double-blind peer-reviewed, and accepted papers will be published in a proceedings journal as a PBRF eligible output. Publication will likely be in late 2021 or early 2022.
Key Dates
---
First Call for Papers Open - 22 June 2021
Deadline for Submissions - 23 August 2021 (now closed)
Registration Open - 20 September 2021
Registration Ends - 31 October 2021
Research Symposium - 25-26 November 2021
---
Fees
This event is free for all staff attending from any one of the ITP across the country.
All postgraduate students currently studying in any one of the Te Pūkenga subsidiaries are welcome to make a submission and present free of charge.
If you are not a staff member from one of Te Pūkenga subsidiaries, but would like to attend, you are welcome to. As the symposium will now be held online, there will be no fees to attend this event.
Any Questions?
If you have any questions regarding the ITP Symposium you can email us on ITPsymposium2021@openpolytechnic.ac.nz