Chris's story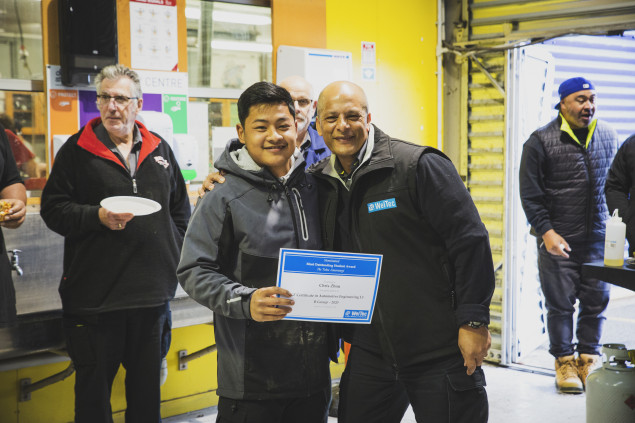 Hear more from Chris
For Chris, working with cars runs in the family.
He knew from a young age he wanted to follow his dad's footsteps, so in 2020 he enrolled in a New Zealand Certificate in Automotive Engineering at WelTec.  Now at just 17-years-old, Chris is proud to be working full-time at Hazara Auto Recyclers. 
Although Chris began his study journey with some experience under his belt, he says the automotive programme at WelTec is suited to anyone as it starts right from the basics, saying "My tutor taught us everything we needed to know for our course as well as what's to come when we head out in the industry." 
A recipient of the Māori and Pacific Trades Training scholarship, Chris says the support he received from the MPTT team played a huge role in his success at WelTec, saying "I received a lot of help from them. They helped me fund the gear I needed for my course and also helped me pay for my licence and gave me driving lessons, which benefited me a lot during my studies."
Chris's determination not only made for a swift transition into the industry, he was also named WelTec Automotive Student of the Year 2020 in recognition of his hard work. Now, the skills Chris learned at WelTec are not only helpful to him, but also to others as he helps train new Hazara team members as they come in. 
For now, the main goal for Chris is to find an apprenticeship so he can continue to learn as he puts his skills to work. But be sure to keep an eye out for his name in the future, as Chris hopes to one day run an automotive business of his own. 
Study Automotive at WelTec
Learn in-demand skills from hands-on tutors with industry experience. Our automative programmes cater to all stages - if you're just starting out, or looking to upskill, we've got something for you.
Explore our programmes here.